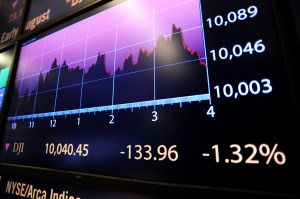 Dear Diary,
Hey look at me! I'm at a two-year high. This level has a lot of emotional significance for me, because it is the result of a long, hard slog following the collapse of Lehman Brothers. And now it looks like I can put some of those credit crisis woes behind me. I'm also feeling some relief from impending closure. Attorney General Andrew Cuomo today sued Ernst & Young, Lehman's auditors, for allegedly enabling accounting fraud.
But there's other stuff besides my apparent recovery from the Lehman trauma. Merger activity seems to be picking up! Cases in point: Massey, the energy company, might be looking for some buyers, and TD Bank looks ready to buy Chrysler Financial.
So that's a plus. For the most part, though, I'm just hoping to cruise on through the rest of the short week and catch my breath until the New Year.
See you tomorrow,
The Dow Jones Industrial Average