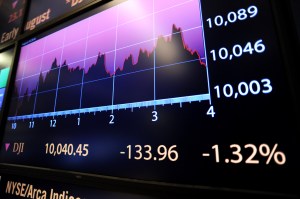 Dear Diary,
Good news! Maybe you didn't know this, but FedEx is really important — not just to people who want to send baubles and trinkets across the globe, but also to me and much of corporate America. The reason is not too hard to grasp; when there's a lot of economic activity, people tend to ship stuff around. And so it was with some joy that I greeted today's announcement that FedEx was expecting great full-year results on the back of record shipments. Happy holidays indeed!
From a data standpoint, the overall economic picture wasn't getting much worse, either. Weekly jobless claims held steady at 420,000 — not a good level at all, but at least it didn't get worse. And yeah, the housing market is definitely still in bad straits, but housing starts rose in November. Small consolation, since the number of building permits declined, but what can you do. It'd be crazy to expect every little data point to be rosy, given how much of an economic slump we're in.
It was a little sad to see American Express, one of my stocks, get dinged up today. I wonder if it had anything to do with the Federal Reserve's proposal to cap the amount companies can charge retailers for debit card transactions. That would be odd, because American Express doesn't do debit cards. Oh well, they make plastic things people swipe, so maybe people got nervous and sold for the wrong reasons.
All in all a decent day. I added 42 points. Tomorrow's Friday.
Good night,
The Dow Jones Industrial Average