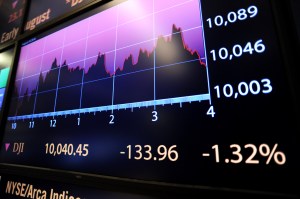 Dear Diary,
Let me tell you, today was pretty slow. I added 18 points — not a lot, but as usual I'll take a win.
The tax bill — a compromise between the Obama administration and Congress — appears well on its way to passage. That's probably good for me in the short run, which is mainly what I'm concerned about on the day-to-day. The tax cuts should give the economy a boost and maybe free up a little extra cash with which investors can buy stocks. And that'd just be wonderful.
Goldman Sachs got seriously bullish on Apple, issuing a new price target of $430. Hope there's an iPad under the X-mas tree this year!
Also, just a little side note: GE, one of my companies, announced it would buy WellStream, a move that would allow it to move further into the Brazilian deepwater oil exploration business. Excelente. Other than that, slow, like I said. Not a lot of economic data coming out. For that we'll have to wait. I'll be watching for anything out of the Federal Reserve, which is having its monthly meeting tomorrow.
Take it easy,
The Dow Jones Industrial Average