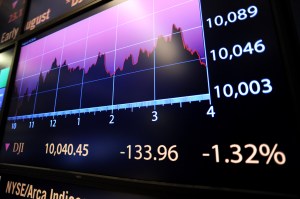 Dear Diary,
Today was a bit of a zig-zaggy day (up in the morning, down in the afternoon, close to break-even at the close). Maybe today's big dump of economic data has something to do with it. Mortgage applications were down last week; the housing market remains a mess, duh. The consumer price index came in lower than expected; the economy isn't growing fast.
On the other hand, manufacturing in my home state of New York grew dramatically. Industrial production and capacity utilization also came in better than expected. So not everything is tanking. Plus, the Senate voted in favor of a tax-cut extension, which will put more money in people's pockets and hopefully more money in stocks.
It's not just the domestic economy I have to worry about these days, though. The creditworthiness of Spain and Belgium is under review. As the year winds down, we're still just cruising from one crisis to the next. Ah, well, at least I didn't take it on the chin today.
See you tomorrow,
The Dow Jones Industrial Average