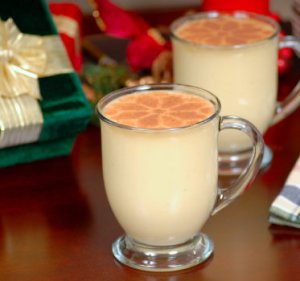 Like all liquor lovers of fine palate and taste, Frank Bruni does not like eggnog.
"It's a dessert in drink drag, a single-cup, multi-egg sleigh ride to feeling overstuffed and overwhelmed right at the start of a party, when an unimaginative host foists it upon you — 'we have eggnog!' — in place of a proper cocktail or respectable glass of wine or something, anything, that won't spoil your appetite and erase three miles on the treadmill in three insanely rich sips," he wrote today in The New York Times.
You see what he's getting at — Frank Bruni will not have your grandmother's secret eggnog recipe, mixed with love we're sure. Nothing personal. It just so happens that eggnog is an utter abomination that manages to be both effete in looks and stomach-sickening in effect. Frank Bruni needs a proper cocktail. No frills, just the business.
But what if there were a variation on the season's drink of choice that wouldn't be so damn awful? Spurred on by an appeal to tradition and a hankering for nutmeg, Frank Bruni commissioned new takes on the Christmastime staple from three of the city's most nimble mixologists in hopes of finding a way to preserve the essence of eggnog while excising the heaviness.
The results appear to be a success! Julie Reiner, of Lana Kai in Soho, substituted toasted coconut milk instead of the standard, ditched the yolks, and spiked the thing with Appleton Jamaican Rum and Cruzan Black Strap Rum.
Then we get the Bah Humbug, from Johnny Swet at the James (a new hotel with a stunning view, we've been there!). He totally deconstructs his version, stipping it of all egg and dairy — "you're just inverting the entire universe here," Bruni informs Johnny Swet in the accompanying video — and attempts to rous some eggnogginess with a complex blend of liqueurs. Bruni found it "preferable."
Katie Stipe, cocktail director at Vandaag, in the East Village, summoned an x-factor that seems to befit her restaurant's Dutch feel: mulled cider from apples and, oddly, squash. "Ooh! Wow! I feel like I'm eating some liquid mashup of a pumpkin and an apple pie!" Bruni said upon tasting the mix.
And then, the ultimate stamp of approval: "I think this is an eggnog that Santa himself would approve of."