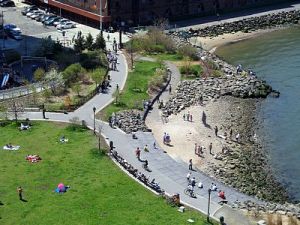 Real estate agents are chomping at the bit to start selling office space under the moniker of Silicon Beach, a section of Dumbo now home to 65 digital companies in a five-block radius.
Fortune profiled this locale, which boasts affordable office space just one subway stop from Manhattan. Dumbo's big dog is probably Etsy, which now reports annual earnings between $30 million and $50 million.Their funky office space sets the tone for Silicon Beach.
A few years ago, a moniker about beaches might have seemed out of place in this part of Brooklyn. But with the expansion of Brooklyn Bridge Park and more waterfront set to open in the next few years, its not such a strech anymore.
For a comparison, here's an ad selling "creative office space on the waterfront."