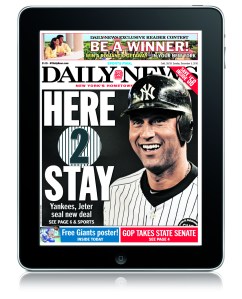 The New York Daily News iPad app is now available in the Apple iTunes store, said the Daily News in a statement.
The app allows subscribers ($1.99 a month for now) to download a replica of the print edition for wifi-less commutes and keep up with breaking news and multimedia throughout the day, according to Daily News CEO Bill Holiber.
It'll be interesting to see how it measures up to the Post's free app. It's David Carr-approved.
Not to steal Harper's thunder! They got an iPad app today too. It comes with the print subscription, 12 issues for $16.97.