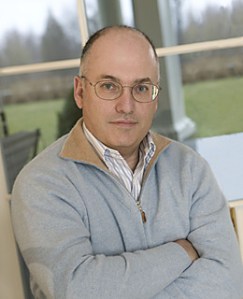 Today's Wall Street Journal reveals a new figure in the Great Hedge Fund Reckoning. His name is Michael Steinberg, and he's the first current employee of Steve Cohen's SAC Capital to be named in connection with the FBI's far-reaching insider trading probe.
According to The Wall Street Journal, the FBI approached expert-networker John "Nuke" Kinnucan and solicited his cooperation in its investigation. Mr. Kinnucan, who has since become a nearly unavoidable presence in the financial-news media, declined the feds' invitation. Now The Journal says that one of the clients the FBI was after is Mr. Steinberg.
Mr. Steinberg, 38 years old, has worked at SAC since 1997; in 2001, he joined Sigma Capital, SAC's New York division, where he worked with former SAC manager, Richard Grodin.

As a technology-fund manager, Mr. Steinberg is expected to keep Mr. Cohen up to speed on his thinking about technology stocks, a person close to the situation says. Mr. Grodin, who closed his fund, Quadrum Capital, last fall, received a subpoena as part of the insider-trading investigation last fall. Mr. Grodin didn't return calls for comment.
Ash Bennington at CNBC is speculating that Mr. Cohen may have had a hunch the authorities were snooping around, based on the following from The Wall Street Journal:
In 2009, Richard C.B. Lee, a former hedge-fund manager who previously had worked for an SAC division, attempted to get hired by SAC after he had begun cooperating with the government in its investigation, according to a person close to the situation.

Mr. Cohen was suspicious about Mr. Lee's motives and he rebuffed Mr. Lee's offer, the person said.
Whatever Mr. Cohen's mindset a year ago, the government has developed a noticeable pattern of circling ever closer to him as this investigation wears on.
mtaylor [at] observer.com | @mbrookstaylor