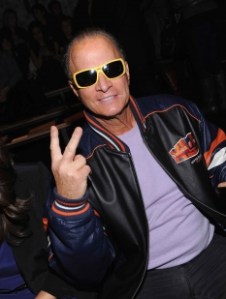 For days, it appeared as though they would never be back. Lady Gaga, Justin Timberlake, Alicia Keys and others had sworn off Twitter until $1 million was raised for the AIDS charity Keep A Child Alive, and the goal was nowhere in sight. The first day raised just a fraction of what it would take to restore the social network versions of these celebrities, and it appeared as though they would be silenced forever.
Then, out of nowhere, the total amount raised breached the threshold, going over the needed sum by just $125.
But if you thought the charity had finally rallied its base of activist individuals, each doing their part to help out with the worldwide crisis, think again. Instead, the New York Post reports that the fundraiser relied on a loudmouthed, brash, braggart of a fun-loving pharmaceutical billionaire, the incomparable Stewart Rahr — yesterday he donated $500,000. Who is this man, you ask? Well, he goes by Stewie Rah Rah, and he would love to tell you about all the celebs he knows. Now we're going to quote liberally from an Observer profile of Rahr that ran last September.
"Marky Wahlberg is flying in to hang at my party, and I want him to bring Matt Damon so I am forwarding him this invitation," [Stewart Rahr] said, putting the finishing touches on an email. "Lionel Richie is also flying in from L.A., which is big. And Sharice, she is the best of the best and will be as popular as Celine Dion, which is a monster statement. I've been following her career for three years with my dear friend, David Foster, who probably discovered her. So I am sending that out to Marky because I want him to forward that out. Got it?"

The email to Mr. Wahlberg read: "Bro, please forward this 2 Matt Damon. Tons of thanks. C U August 2 at ur premier." It was written in a giant purple font.

"Purple and yellow are my colors," Mr. Rahr said. "And yellow is Rah Rah. Stewie Rah Rah." He put on a pair of bright yellow Ray-Ban Wayfarers. "Stewie Rah Rah, King of Fun."
Congrats, anti-Twitter charity campaign: you were bailed out by this guy. And given that a source close to the program told the Post that this was "the worst mismanagement of star power I've ever seen in my life," maybe people simply don't care about losing celebrity Twitter accounts.