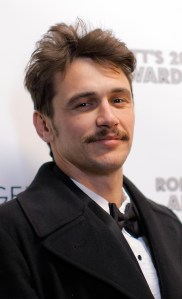 Has James Franco given up on America?
If so, he's got some justification. He's shown in highbrow gallery exhibitions, made soap opera appearances billed as performance art, published a collection of short stories, persued a Ph.D. in literature, done readings with the likes of Gary Shteyngart, and dressed up in drag for Terry Richardson. He's done all this while tackling weighty and well-received roles in juicy Oscar-bait films. Yet, the public often treats his extracurricular activities as mere curiosities.
What about Europe, then? Instead of opening his first solo gallery show stateside, which he most certainly could do, Franco's chosen to take his artwork to Peres Projects in Berlin, Art Info reports. The space is owned and operated by Javier Peres, who's known Franco for eight years and also worked with Dash Snow and Terrance Koh. The show is set to open in February to coincide with the Berlin Film Festival, and will riff on "The Dangerous Book Four Boys," which showed in New York over the summer.
Peres suggests that his buddy James picked the German city to have the public focus on his work, not his star status.
"Generally speaking, the notion of celebrity in Germany is not what it is in New York or Los Angeles," Peres said. "We don't have the same general fixation on it in Germany. In Berlin, really famous people can walk down the street without problems or bodyguards. Here, James will be judged based on the merits of work."
No word on how exactly he'll fit an art show into his very busy February, as he has to be halfway across the world in L.A. to host the Oscars and film episodes of General Hospital. But that's standard procedure for everyone's favorite phone-throwing writer-student-artist-actor!
nfreeman at observer.com |@nfreeman1234
Click for Scandal Report: And Then The Model At Diddy's Party Burst Into Flames