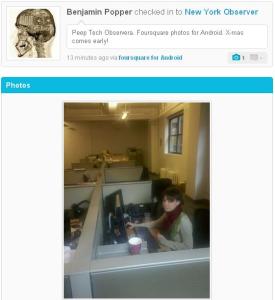 Foursquare gave its users an early christmas present this year, adding photos and comments to its mobile app for iPhone and now Android.
According to founder Dennis Crowley, users are already uploading close to one photo every second, and that's not even counting the Android users who will start taking photos today.
As Mark Zuckerberg has discussed, and as the success of apps like Instagram and PicPlz have demonstrated, photos are really the killer app when it comes to social on the web.
The big question is how Foursquare will deal with this surge in data intensive activity by its users. The site had an major outage back in October, which Crowley attributed to "too many check ins".
For the next year at least, Foursquare plans to stay focused on growth, not profit. These new features should supercharge user adoption, and hopefully the site can stay one step ahead of this growth and avoid lengthy downtime.
UPDATE: Dens replies to our concerns about the traffic spike from photos and comments –
Check Out The Brooklyn Super Nerds Who Accidently Invited All Of Foursquare To Their NYE Party >>
bpopper [at] observer.com | @benpopper