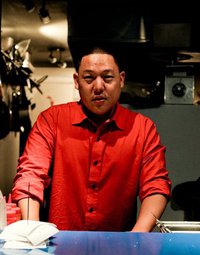 Eddie Huang's infamous Xiao Ye saw its demise last week in the wake of a Four Loko-flavored blowout, and the notorious beverage's last haven shut its doors for good.
But the chef and restaurateur will soon be taking his message way beyond the Lower East Side: he's developing a TV program that would air his wildly enthusiastic life approach to food, booze, hip hop and his mother to the masses. Eater reports that Huang has inked a deal with High Noon entertainment, the backers of culinary-themed fare such as Cake Boss. The show will start filming in New York in the next month, and will follow Huang's escapades in and out of the kitchen.
Those seeking a primer on Eddie Huang can do worse than to peruse his blog, Fresh Off The Boat, which features pictures of food he cooks, annotations on blog comments about him, and embedded hip-hop videos.
Food shows can be hit or miss, often because they are anchored so much on the featured chef's personality. That being said, The Observer's history of interaction with Eddie Huang suggests that his show will do anything but bore. And we predict plenty of on-air Four Loko consumption — it may be banned, but if anyone has a massive stockpile of the stuff, it's Huang.
This is how he describes his current employment, as the "BOSS" of Chinatown eatery Baohous, on Facebook: "Hangin wit the posse, haters wanna copy, mad cause I'm young fly makin dat BROCCOLI."