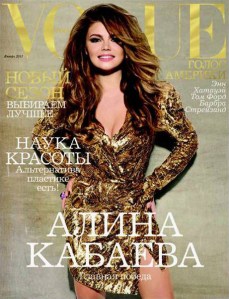 The word around the Red Square is that Russian Prime Minister Vladimir Putin has left his wife for Alina Kabayeva, a 27-year-old member of the Olympic gymnastics team.
Hot stuff! Putin's probably sicced his old KGB buddies on the those with loose lips, seeking to quash the rumors. But the release of a certain magazine may make it hard to lower Alina's profile — the beauty is set to stare out from newsstands across the world as the cover girl for January's Russian Vogue.
The Telegraph reports that Putin sternly denied any improper relationship between him and Alina, who also works within Putin's party, after a newspaper ran a story saying he had left his wife and two daughters and taken up with the gymnast.
The issue will almost certainly place newly appointed Russian Vogue editor Viktoria Davydova in hot water, and will come out in January.
If the rumors, which first surfaced in 2008, are true, let's just hope that Putin doesn't croon his love interest to sleep. Yes, Vlad, we know you like Fats Domino tunes, but we can't say we're a fan of the singing voice.