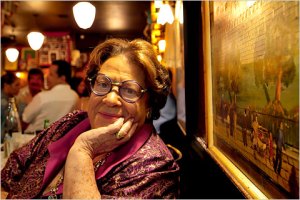 After years of patronage at Elaine Kaufman's famed eponymous Upper East Side restaurant, Gay Talese has become, in the weeks since Elaine's death, one of the primary writers associated with the beloved salon. Any obituary worth its salt reached out to Talese for a comment — it wouldn't be complete without a quote from the writer. So when subscribers to The New Yorker see this week's issue flop on their snow-smothered stoops, pick it up, and notice a Talk of the Town piece by Gay Talese on Elaine Kaufman, they will nod and go, "Oh, well, yes." It was inevitable and, at this point, almost beside the point.
But Talese necessitates even this late remembrance by focusing on an element of Elaine Kaufman hitherto ignored: her distinctive dresses.
"Elaine was not thinking of dying," Linda Clare Meisner, the dressmaker of the hour, told Talese. "A few weeks before she went into the hospital, we took a car down to Mendel Goldberg Fabrics, on Hester Street, where they get the most luxurious fabrics direct from Europe. This is not the kind of place for buying leftovers on Seventh Avenue! Elaine was saying, 'Oh, look at that beautiful embroidered brocade over there! It would work well in a coat-dress!' And soon out comes her AmEx Gold card and she's spending six thousand dollars for several pieces of fabric. Coming uptown, she was very happy. Oh, dear Elaine—she was such a fabric junkie."

This garment fixation would set Elaine back $800,000 in her 20 years of buying them.
But even an article that hones in its glance on Elaine's aesthetic temperament cannot be about anything but her eatery. The fittings for most of the dresses took place in — and where else? — Elaine's.