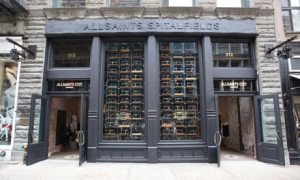 A German investment fund has dropped $55 million on the Soho space occupied by racy British clothing store All Saints.
Invesco Immobilien Fonds IV U.S. Partners, a U.S. vehicle for German investors, has bought the 20,000-square-foot, first-floor retail space owned by Thor Equities. The six-story loft building at 56 Crosby Street on Broadway was converted to luxury condos in 2000 by Howard Katz' Surtsey Realty Corporation. All Saints, of the infamous ram's skull logo, opened its first American location there in the spring.
This is the fund's second acquisition in the United States. In August, it purchased a piece of property at Dallas Fort Worth International Airport for $15.35 million, according to British Property Magazine. The trade says that was the first of a series of acquisitions planned here.
Neither representatives for Thor Equities nor Invesco could be immediately reached for comment.
lkusisto@observer.com