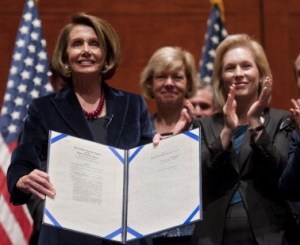 Kirsten Gillibrand's image-making moment rolls on.
After receiving the A1 treatment in The Times on Sunday–as one of the senators celebrating the repeal of Don't Ask Don't Tell–Gillibrand will be in attendance at the Department of the Interior tomorrow morning when President Obama officially signs the bill, an aide confirmed.
It's one more photo-op in what has become a coming-out party for the junior senator during this lame-duck session. She attended the House version of the bill signing today and, as you can see from the photo, received rather prominent placement as Speaker Pelosi put her mark on the bill.
Gillibrand became a champion of repealing DADT shortly after her appointment to the Senate–one of the causes that helped endear her to the gay community, following some initial concerns.