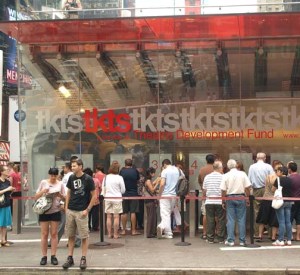 Broadway producer Ken Davenport has presumably been making bank for the last six months on his $.99 cent iPhone app At The Booth, which shows how long the lines are at the Times Square discount TKTS booth and what tickets are available.
Entertainment Weekly called it "ingenious" and "the best thing to happen to New York theater since the introduction of the TKTS booth." But the Theater Development Fund, the not-for-profit that operates TKTS issued an un-endorsement, promising that an *official* TKTS app was on the way.
The official iPhone app finally dropped yesterday, two months behind schedule. But since iPhone users tend to penny-pinch in the app store, the fact that the official app is free almost guarantees it will crush At The Booth in downloads. It also updates ticket information in real-time. Playbill says an official TKTS Android app is "in the works."
Meanwhile, back at the app lab: Davenport released an Android version of At The Booth and has plans for a BlackBerry app.
ajeffries [at] observer.com | @adrjeffries