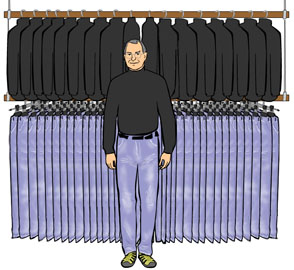 This morning Goldman Sachs threw its analytical muscle behind Apple today, saying the stock, which is already at a record high, could gain another 100 points before topping out.
Goldman sees Apple's platform-centric business model – iPod, iPhone, iPad, etc – is the "secret sauce that has enabled it to quickly capture market share in new computing segments while simultaneously enjoying considerable margin leverage."
But a lot of other analysts see Apple's margins shrinking as the smartphone and tablet market becomes increasingly crowded. For Apple to initiate another big run, it will need to do more than just sell a lot of devices. It needs to invent another product category.
"Goldman Sachs slapped a $430 price target on Apple," said The Big Picture's Barry Ritholtz, before adding sarcastically. "Their new analyst, apparently, has just discovered this thing called an iPad, and they think it's going to be big."