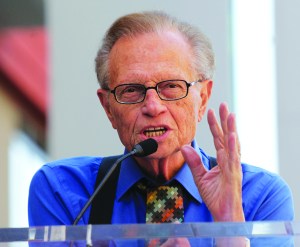 Larry King didn't seem too engaged in what Katie Couric had to say about their mutual friend Wendy Walker. Last month at Ms. Walker's book party at Michael's, Mr. King fiddled uncomfortably throughout Ms. Couric's impromptu speech about the senior executive producer of Larry King Live.
"Wendy and I started the same day at NBC News in Nineteen Seventy-cough-cough. I think something got in my throat," Ms. Couric joked. "I feel privileged to call Wendy one of my closest friends. I'm so proud of what she has accomplished. She is a first-rate human being before being a first-rate producer. I'm sure Larry can attest to both."
During Ms. Couric's introduction, Mr. King shuffled his feet. He wandered a bit. He stared aimlessly into the crowd of guests. He even checked his cell phone. But he became energized once Ms. Couric wrapped up.
"Do I go now?" Mr. King asked in his unmistakable cranky croak.
"Yes," Ms. Walker replied, playing the straight woman in this act.
"This is one of the great book parties of all time," Mr. King said. "Jon Klein, Jeff Zucker and Larry King: This party is called 'Jews Out of Work.'" The former president of CNN U.S. and former president and chief executive officer of NBC Universal were both in attendance. Still, the joke got the biggest pop of the night.
Mr. King then briefly interviewed Ms. Walker about her days at CNN; her new book, Producer: Lessons Shared from 30 Years in Television; and her next gig.
"You're going to be in charge of L.A. programming development; what is that?" Mr. King asked.
"I'm going to come up with ideas, find new talent and new shows for the network." Ms. Walker admitted to being out of her comfort zone but was soothed by her attending friends.
"What's the toughest part of leaving?"
"What, the show or the party?"
The scratchy mix of reflection and uncertainty was understandable since the event was held exactly one month to the day before the final edition of Larry King Live on Dec. 16. After a 25-year run on CNN, Mr. King quit the show earlier this year amid tumultuous times in his personal life–in the spring, Mr. King and his seventh wife, Shawn Southwick, filed for divorce. They have since called it off.
The book party almost doubled as a fete for the 77-year-old broadcasting icon.
"He's a fixture. He's an icon," Ms. Walker gushed to The Observer. "Everyone is used to having him there and expecting that if something big happened that day, he will be there [talking about it] that night. He's got a very unique way of interviewing, and it's brilliant. He takes himself out of it. The other 23 hours, he doesn't. But for that one hour, he goes someplace else and it's all about the guest. That's kind of cool."