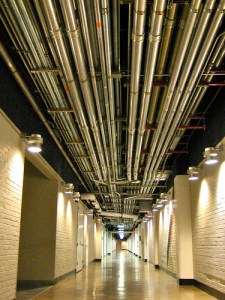 In the parlance of the data-center crowd, 111 Eighth Avenue is New York's premier "CoHo", or "Carrier Hotel".
The building's enormous size and position directly over an important fiber optic line make it one of the "world's choicest pieces of Internet real estate."
Wall Street caught on to this early, moving electronic trading units in back in 2001 to gain millisecond speed advantages in high-frequency trading.
But with the major exchanges transfering their computers out to Jersey, the building is more attractive to Internet firms like Google, which want fast net access, not proximity to NYSE servers.
Google will certainly be adding humans to the building as well — probably sales and marketing staff — as they go head to head in the booming business for local ads with firms like Facebook and Groupon. But don't be surprised to see more floors of this massive property dedicated to data centers.
bpopper [at] observer.com | @benpopper