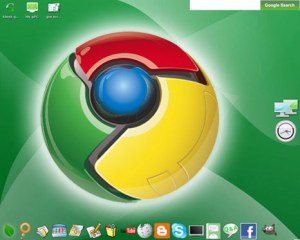 Google premiered their Chrome OS notebooks today. It's an exciting step forward in mobile computing.
Traditional operating systems were not based around the web. Chrome OS is focused on the web from the bottom up.
The first time you turn on the notebook it prompts you to enter your Google ID and take a photo. Then it syncs with your Chrome browser. 60 seconds later the computer is up and running, complete with your browsers themes, bookmarks and Chrome web apps.
Of course, users occasionally find themselves offline. In that case, most apps will still work. You can work on a Google doc or read a story from the New York Times. The next time the user goes online, the documents sync and the articles refresh.
But the most interesting news is that all Chrome OS notebooks will come with built in cellular connectivity. All users will get 100 mb of free 3G data each month, with additional data plans starting at $9.99. According to Google, the will be no long term contracts or commitments involved.
The Chrome store will be rolling out later this afternoon, so check back in later for a look at some of the cool tools that will be featured on Chrome OS.
Sundar Pichai, Google's vice president of Product Management, closed with a bold statement. "When you buy a new computer, it runs very fast. But a month later it is running slower. A year later it make take a while to boot up. I have been using a Chrome notebook for six months, and it actually gets faster each month, because the OS is updated automatically from the cloud."
Chrome OS won't premier just yet, but a few lucky folks will get to participate in a pilot program. Apply through the Chrome browser here.
bpopper [at] observer.com | @benpopper