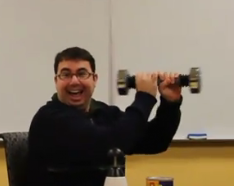 Google just released a faux-infommercial on YouTube supposedly hacked together by some Chrome engineers reading a script off their laptops, and well, the joint oozes geekiness.
The spot is for Chrome OS, Google's new browser-based operating system. Two engineers sit at laptops bedecked with Google stickers. One of them starts talking about troubleshooting problems with his dad's computer.
"Between the time to install the OS, firewall, antivirus, applications, camera, printer, networking–you know, I had no time to talk to my family. And the crazy part is, everything he does is in the browser!"
Cut to another engineer vigorously pumping a Slap Chop, because he is confused about infommercials.
"No, no, no," another engineer interrupts. "Like this." He turns to the camera and starts fast-talking. "Tired of worrying endlessly about viruses, firewalls and security updates and just want to get on the internet as fast as posisble? That's why we made an operating system based on a browser. Get your chrome notebook today."
The description of the video notes that Google's marketing team does not approve of the spot (recent official Google videos have been much better).
But the video ends with a challenge: Google wants people to make and upload their own YouTube infommercials about Chrome.
Google is asking for testers to try out a Chrome notebook with the new browser-based operating system installed, but you have to apply for your Chrome notebook by answering a survey about your browsing habits and writing a 140-character essay. If you're desperate for a Chromebook, a little nerding out on YouTube might help.
ajeffries [at] observer.com | @adrjeffries