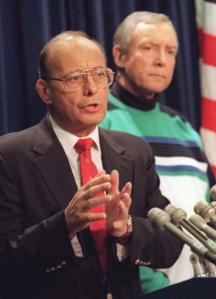 As Senator Bernie Sanders enters hour eight of his objections to the tax cut compromise, we took to the CSPAN archive to find one of the last great filibusters: Al D'Amato's all-nighter in 1992.
D'Amato spent 15 hours objecting to a provision that was removed from a tax bill, a provision that would have helped a small typewriter company in Cortland, New York.
"I am just absolutely bonkers," he recalled to Fox News more than a decade later. "So I said, 'You know what, I'm going to hold this bill up.' I went and had dinner. I didn't have anything to drink, took no liquids, went to the Senate floor, probably around 9, 9:30 and started talking, and talking, and talking, and talking."
He sings "South of the Border (Down Mexico Way)" somewhere in here, but I haven't been able to find it yet. So here it is, cued up to an exchange between he and Senator Daniel Patrick Moynihan, sometime in the morning hours.