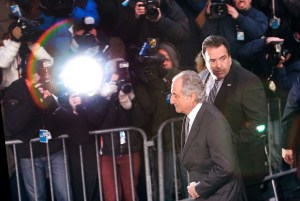 Carl Shapiro, a 97-year-old Boston philanthropist endowed with the dubious distinction of being an early investor in Bernie Madoff's Ponzi scheme (and a longtime friend to the fraudster), has agreed to give $625 million to the government, Bloomberg reports.
"In the decades they did business with BLMIS, the Shapiro IA account holders invested hundreds of millions of dollars, and withdrew hundreds of millions more," the government claimed in its complaint.
Mr. Shapiro began investing with Madoff back in 1961, allegedly gaining around $1 billion from the scam and donating much of his winnings to charity. Which raises an interesting question: How bad is it to run a Ponzi scheme if you're tricking rich investors into funneling cash toward good causes? Probably still bad, right? But maybe less bad than using the money to buy fancy beds, necklaces and pianos for yourself?
mtaylor [at] observer.com | @mbrookstaylor