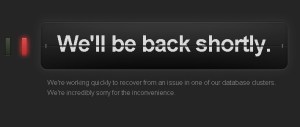 UPDATE: Tumblr has been down for well over 18 hours, and its fans are getting restless, angry, bitter and fearful. Check out scenes from the blackout: Tumblr is Down: A Tweet Retrospective.
The increasingly popular blogging service Tumblr, based in New York, has been unavailable since about 6 p.m. last night.
The outage is causing fits among hipsters but it also brought down the blogs of various media organizations, including The Observer, as well as the status pages where Twitter and Foursquare communicate with users about their downtime.
Tumblr has kept mum on the cause of this downtime. "We're working quickly to recover from a major issue in one of our database clusters. We're incredibly sorry for the inconvenience," the company said on Twitter.
Tumblr has had a lot of downtime lately — partly because of a war with the cesspool of Internet pranksters known as 4chan, in which users of each site tried to flood the other with traffic. But the latest troubles are puzzling since Tumblr raised monster amounts of money last month, reported to be in the $25 to 30 million range at a valuation of $135 million.
"What has Tumblr been doing with all that money? Buying kittens?" a Tumblr user recently asked in frustration at finding the site unavailable.
"We use the kittens to power the servers," replied Mark Coatney, media liaison at Tumblr, a former Newsweek editor who created the behind-the-scenes Newsweek blog that made Tumblr trendy with journalists.
Those kittens have a big job: Tumblr's pageviews have increased 1,500 percent in the past year. We shudder to think what may have happened to them this time.
Tumblr went down because of a scheduled maintenance that "went haywire," Tumblr Founder David Karp tells TechCrunch, forcing the engineers to take down a critical database cluster. Tumblr has been manually rebuilding the cluster all night and the service will be upas soon as possible, he said.
ajeffries [at] observer.com | @adrjeffries