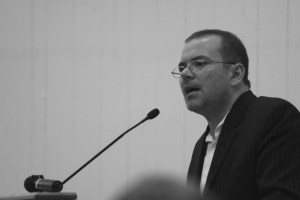 It was the day after Thanksgiving at the Chelsea office of Talking Points Memo, which celebrated its 10th anniversary in November. The place was quiet but still in business. Three reporters sat in the pit, watching three separate flat-screen televisions–playing FoxNews, CNN and C-Span, respectively–the sounds competing with one another and filling the room with a collage of noise; headlines mingled with Christmas jingles from Black Friday advertisements.
"We want people to hear," said Josh Marshall, 41, the site's founder and editor in chief. He makes a sleeping gesture, closing his eyes and resting his head on his hands. "Sort of like you go to sleep and you hear the news still. We want that kind of suffusion."
A 2008 profile of Mr. Marshall in The New York Times bore the headline, "Blogger, Sans Pajamas, Rakes Muck and a Prize," as if the absence of pajamas was as surprising a feat as a so-called blog winning, for the first time, a major award for legal reporting (TPM had just collected the George Polk Award for its coverage of the firing of eight U.S. attorneys in 2007). The sentiment embodies the initial myth of the blogger as a fringe figure on the outskirts of legitimate journalism. Although Mr. Marshall says conventional news and blogs are becoming less and less distinct, he really does not care what you call Talking Points Memo. He says the recent decision to stop calling TPM a "blog" in its press materials is merely "truth in advertising."
Mr. Marshall, bespectacled and smiling, sat at his desk by the far wall covered with high windows that looked down on 20th Street below. He was talking about blogging in a friendly voice, albeit begrudgingly.
"I tried as much as I could to stay away from the negative and positive mythology of blogging as this whole kind of thing," he said of the early days when he was the sole member of the TPM enterprise. "Because most of it struck me as stupid hype, and getting into the meta of it always seemed like a distraction. I just don't think about it very much."
TPM started as the compulsive writing of one D.C. political journalism expatriate, reporting the details of the 2000 Florida presidential recount as they happened. With 18 people on staff, an office in Washington and plans to expand, it has grown into a genuine news organization.
"We're not doing some big rebranding like, 'We're Not a Blog,'" Mr. Marshall said. "It's just that a vast proportion of what we produce–it's a little misleading today–" he gestured to the sparsely populated room–"is on pretty conventional assignment, edited, with original reporting. So in that sense, it is, to me, objectively, not a blog."
TPM's roots are humble enough. Mr. Marshall knew how to design a Web site and had a desire to cut ties with editors. The original site, although physically archaic (a thin white column with black text surrounded by a blue background), seems downright prophetic now: reverse-chronological, iterative reporting, the kind we are so familiar with not only from Gawker but also The New York Times. Mr. Marshall's writing, even then, was colloquial and straightforward about the reporting process. "From real Gore campaign sources I've heard that the whole race will come down to 100 or 150 votes spread either way," he wrote. "Unfortunately for them they're not sure which way."
When Mr. Marshall started, he did not know the word "blog" even existed. There were not many people doing this kind of thing in 2000. Mr. Marshall lists Mickey Kaus and Andrew Sullivan as early models for what he wanted to be doing. Not long after Mr. Marshall started TPM, he left his job as the Washington editor of The American Prospect, but the site was still embryonic. He used to hoard loose change so that he could pay bills.
TPM is now TPM Media, LLC, and includes the flagship site as well as TPM DC, the media-oriented TPM LiveWire, the more gossipy TPMMuckraker, the op-ed TPM Café and TPMTV. As always, there is still a link at the top of each page that says "Send Comments and News Tips." Mr. Marshall takes pride in his readers' participation in the reporting process (tips from readers about local and regional news stories played a big role in the reporting of the U.S. attorney scandal). The site now has between 300,000 and 400,000 visitors every day. Mr. Marshall wants to expand the D.C. office. He wants TPM's staff to grow to three times its current size. He wants to branch out to areas other than politics.
"To the extent that blogging is iterative reporting, reverse-chronological and with a little less opacity about there being a person on the other side who works for the media, you had a window of a couple years when you had these blogs that were skyrocketing relative to The Times, The Post, whatever," Mr. Marshall said. "TPM benefited from that tremendously. Even in the last couple years, in a lot of ways, the big papers are unrecognizable. The big papers and the TV outlets have converged towards these kind of central idioms, and not just the fact that The Times has blogs now."
He recollected the Stone Age, when, at 11:50 p.m., the next day's Times was posted online in its entirety. "I don't know how old you are, but I remember that," Mr. Marshall said, as if it were a century ago.