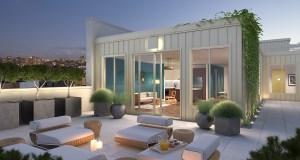 For months there's been an enforced spring break at Harlem's PS90 condo conversion. As of October only a handful of units were in contract, and the halls were so quiet you could hear a thumbtack drop.
But at long last, half of the building's units are in contract according to a release. That may be a passing grade in math class, but not so much for a condo conversion. Still, with only 37 units left — meaning that a bakers' dozen must have sold in the last month — the sales pace seems to be quickening.
The gothic 1905 building wasn't quite finished before Harlem's real estate renaissance stalled, but recent units have been bought for more than the asking price, according to StreetEasy. The remaining units range in price from $475,000 to $775,000. Though 148th Street might not quite be the scrubbed-up gentrifiers' paradise developers promised a few years ago, there are still a few reasons to move there, including 12-foot ceilings and a European-style courtyard.
Looks like school might not be out after all.