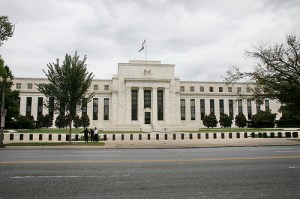 The Federal Reserve's $3.3 trillion in bailout maneuvering during the past three years of financial apocalypse has been complicated, and so it's difficult to isolate one particular "winner" from the many, many institutions who benefited from the central bank's largesse. But let's give it a shot anyway.
According to Bloomberg, "Bank of America Corp. and Wells Fargo & Co. were among the biggest borrowers from one program, the Term Auction Facility, with as much as $45 billion apiece." Not bad, but from the same item we also learn of programs that saved Bear Stearns and AIG from the brink of collapse and $16 billion worth of support for General Electric, the diversified symbol of American capitalism.
So American institutions pulled down a fair amount of funding from the Fed. But what might really chap the lips of U.S. citizens is the degree to which U.S. segments of European firms also dipped into Ben Bernanke's pockets:
Six European banks were among the top 11 companies that sold the most debt overall to the the Commercial Paper Funding Facility. They sold a combined $274.1 billion, according to data made public today by the U.S. central bank. UBS sold $74.5 billion, the most among all borrowers. The largest U.S.-based user was insurer American International Group, selling $60.2 billion.
An alternative reaction: The fragility and interconnectedness of the financial system was greater than ever before, and the effects of the crisis metastasized all the quicker because of that fact.
mtaylor [at] observer.com | @mbrookstaylor