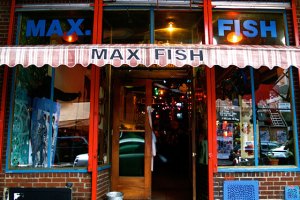 Late Singer-Songwriter Elliott Smith walked into Max Fish for the first time in May 1997. The bar then was about eight years old, and it had already begun to foster a relationship with the artists and musicians of the Lower East Side — Max Fish is on Ludlow Street, right above Stanton, and perennially flanked with scaffolding — through its gallery, which is in the back. It was here that Smith, who killed himself in 2003, became a "bad alcoholic," writes Leah Finnegan in a story about the much-celebrated singer's relationship with New York City, in The Morning News.
"At 5 p.m. on a recent Saturday," Finnegan wrote, "Max Fish barkeeps were cleaning up from the night before, lining up beer bottles and wiping down the booths. The iconic neon cigarette above the venue's door was obfuscated by construction scaffolding. 'This place is a landmark,' a man in periwinkle pants said to his friend as they walked by. 'It's called Fish Bar.'"
As landmarks tend to do, Max Fish would stick around for a while. The bar stayed open to see, in 2002, the city's rock scene explode all around it, and did its damnedest to get the bands wasted. Naturally, Moby was there, too.
"I know [TV on the Radio] a little bit just from being drunk at Max Fish at four in the morning," the musician told Pitchfork last year. "I don't know if they hang out there anymore, but I haven't been there in about six months either. There are certain people who I'd see at 3:30 in the morning at Max Fish or Motor City, people who I've never had sober conversations with."
Max Fish stayed open to see Dash Snow, Ryan McGinley and other spearhead a new downtown art movement.
"Snow was the Keith Richards [of the scene], a genius junkie with magic fingers." writes Joshua David Stein in The Daily Beast earlier this year. "During his life, those fingers were often clutching cigarettes (and darker pointier things) at various bars on the Lower East Side, including, and especially, Max Fish."
And Max Fish stayed open long enough to witness the deaths of both Elliott Smith and Dash Snow.
But it won't be open much longer. Eater reported a rumor that Max Fish would be shutting down and packing up due to high property taxes and stratospheric rent. Later, Animal confirmed it. Max Fish will shut its doors for good January 30.
The news comes the same day that The Pink Pony, another Ludlow Street mainstay, would also be closing. And yesterday the triumphantly dingy Mars Bar inched closer to its demise — in short, this week has been one of the worst ever for classic 90s downtown bars. Surely there will be many who cheer on the fall of Max Fish, saying that it only perpetuates the Hollywood version of the Lower East Side by cashing in on the commodified version of the dangerous, edgy place that block used to be. And granted, the bridge and tunnel crowd makes that corner of Ludow absolutely intolerable on the weekends.
But it's a fine spot to have a few drinks on a Wednesday, a place with a history that should mean something to the people still living around it, and overall the Lower East Side should be sad to see it go.