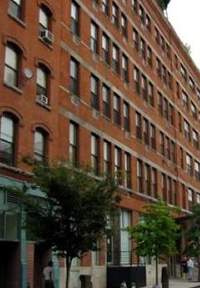 –The daughter of billionaire Blackstone founder Steve Schwarzman has sold her Upper East Side townhouse for $6.35 million. Elizabeth "Zibby" Right and Andrew Right are both in their early 30s and appear to have bought the gracious home not long after they were married in 2005.
Ms. Right is a freelance writer and the co-author of What to Wear to Show Off Your Assets, What to Do to Tone Up Your Trouble Spots and more recently has chronicled the challenges of raising twins–though we imagine it was somewhat more pleasant in a four-story townhouse with a private garden. Mr. Right has served as a managing director for Goldman Sachs. The home at 247 East 71st Street was unlisted and sold to S.K.I. Realty Inc.
–There's a festive pre-Lehman feeling at the Spears Building these days. Corcoran broker Alan Sands and his wife, Amy, an heir to the Fortunoff department store fortune, have sold their penthouse for $7.75 million. The buyers are financier Anson Beard and his wife, Debra Walker Beard. That's the highest price ever paid for a unit in the building, according to Mr. Sands, who declined to comment on the identity of the buyer, an LLC, which The Observer only later discovered via public records was him. The apartment has been on and off the market for three years, he said, but good things apparently do come to those who wait.
–It looks like the only "star" in 54 Bond Street so far is in Starbucks. The part-owner of the coffee chain in Japan, Rikuzo Suzuki, has bought a $4.3 million condo in Adam Gordon's downtown hotspot. For some reason this unit in the building was not listed.
–Voiceover star Wendell Craig, who recently bought a new place nearby on West 111th Street, has sold his apartment at 285 Riverside Drive for $1.775 million. The buyers are Kenneth McClure and Corinne Iaquinta. The two-bedroom Upper West Side spread with a 31-foot entry gallery is, as the Brown Harris Stevens listing notes, "an immediate reminder of why Candela apartments are so sought after."
–JPMorgan managing director Kevin R. Alger sold his apartment at 107 West 86th Street for $1.5 million. The buyers are Richard Fine and Amy Hass, whose current address is on the 11th floor of the Bromley.
–Bankers Esty and Mauricio Abadi have bought a $3.3 million condo on the 11th floor of the Azure, at 333 East 91st Street.
–Barclay's VP Ashton Kalbag has bought a $999,000 apartment at 800 Riverside Drive. The seller is John W. Krakauer.
lkusisto@observer.com