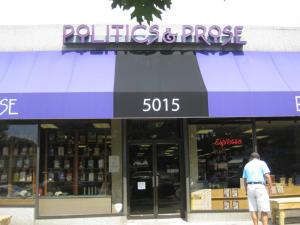 It could be said that the Politics and Prose bookstore is Washington D.C.'s answer to, say, The Strand. That store is certainly more modest in size and scope — appropriate given its city — but by no means is it any less beloved. For 26 years Politics and Prose has reigned as the District of Columbia's best place to catch a senator with a book to peddle, run into a Capitol Hill reporter, or just browse through the endless political journals. Trust us — we bought our first copy of Naked Lunch there, many years ago. It's a wonderful place.
Now the favorite haunt of politicos and bookworms is up on the auction block, and its future is contingent on whether owner Barabara Meade, who opened the store with the late Carla Cohen, can find a new owner.
One possible outcome has emerged: Could the savior be none other than Frank Foer, the recently departed ex-editor of The New Republic? The Washington Post discussed the possibility of the deal, which The New York Times first reported last week, with Meade.
"We're looking for someone who is committed to the mission of the store as it has existed," the owner told the Post. "We certainly have a great interest in selling to someone who has a passion for the written word."
Foer, who is part of a bidding group with XM Satellite radio founder Hugh Panero, The Atlantic's Jeffrey Goldberg and lit agent Rafe Sagalyn, declined to give any more details about the potential purchase, but did mention that he has a fondness for the place that began in childhood.
"I love that place so much," Foer told The Times.
We share his affection, and we'll keep pulling for the writer-editor to seize control of Politics and Prose, thus ensuring that its doors stay open. The editor-to-bookstore-owner move is not the most common, but perhaps Washington needs Frank Foer running one of its bookstores more than it needs him to run one of its magazines.