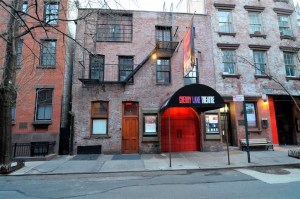 Is there any hope for New York theater anymore? Spider-Man can't keep his balance, and now the Village, and the city, has lost one of its oldest Off-Broadway theaters.
The Times reports that the Cherry Lane Theater, founded in 1924, is closing for good. Once home to Odets, O'Neill, Beckett and Shepard, it is the oldest Off-Broadway theater in continuous operation. Bought in 1996 by Angelina Fiordellisi, there have been no productions for the past two years amid financial struggles, and it would appear shows like Spider-Man and the current run of The Merchant of Venice are partly to blame.
"It's frightening to me, what's happened to Off Broadway theater," Fiordellisi told The Times. "I feel that we can longer do theater for the sake of the art form. We have to adhere to the formula of having a film star in our productions to sell tickets because it's so financially prohibitive. I don't want to do theater like that."
The former Tobacco factory dating from 1811 has two theaters, one with 125 seats, the other 60 seats, and will be put on the market for $12 million. For that kind of money, this could only reasonably become another glorified townhouse or restaurant. Or maybe a townhouse-restaurant.
mchaban@observer.com