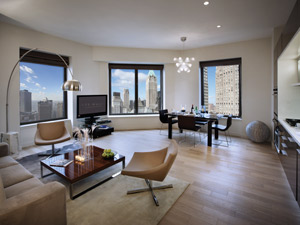 Feeling bullish about FiDi these days? Join the slick, Armani-clad club.
Still, though it seems like the neighborhood's shares have been rising lately, it's apartment stock can't seem to get a buy rating. For the high-powered trader who can't make it to Las Vegas this weekend, a top-floor spread in one of the area's hottest new developments at 75 Wall Street has all the charm of a casino hotel and many of the amenities, including an enormous fitness room and rooftop deck.
Plus, with 10-foot ceilings and six-foot windows and a view of not one but several rivers and bridges, according to the Corcoran listing, you'll never feel the call of neon lights and blackjack again. Of course, then you'll have to find another way to get the $8.4 million.
Slideshow: It's Free to Look: FiDi's Bullpen Asking $8.4 M.
lkusisto@observer.com