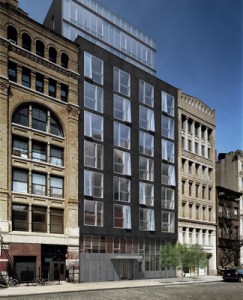 With most of 54 Bond finally sold, there is not much open real estate on the fabulous cobblestone causeway. That was until a few days ago, when developer Don Capoccia put his three-floor penthouse on the market for $13 million two doors down at 48 Bond Street. The 11-room, 5,000-square-foot condo is equipped with a solarium, 1,100-square-foot roof deck, and for, an extra $2 million, a three-car garage.
Chuck Close, who moved in in 2008, is among the new neighbors. Perhaps he could help you paint your new apartment–not that the exquisitely designed Deborah Berke interiors need it.
SLIDESHOW:What Else But a Sleek Triplex on Bond Street?
realestate@observer.com