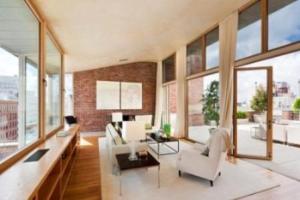 With any luck, the sad specter of Heath Ledger does not still live downstairs. But this penthouse promises to banish any gloomy thoughts with a nearly 3,500-square-foot exterior terrace, hot tub and skylights.
The main area has a 24-foot ceiling, which perhaps explains the building's appeal to Hollywood types used to California sunshine. Ledger lived in a $23,000 a month rental turned $5 million condo, which recently went into contract to a mystery buyer.
This top-floor unit, asking $20 million with Corcoran's Darren Kearns and Jim Farrah, is the only one left, so hurry because time, as they say, is fleeting.
Slideshow: Penthouse in Heath Ledger's Building Now Asking $20 M. >>
kusisto[at]observer.com