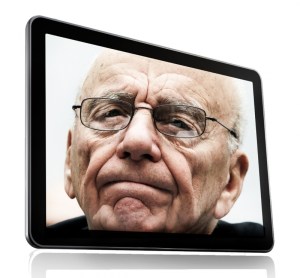 Rupert Murdoch's digital daily newspaper The Daily will launch in exactly one month, reports MediaMemo's Peter Kafka.
There are lots of reasons to begin counting down (or saving up: The Daily is still iPad-only and iPads still start at $500) what with the pub's stacked editorial roster (including Sasha Frere-Jones and Richard Johnson), the drone news choppers and the rumored 3-D elements.
But mostly we anticipate print publishers collectively salivating over its smooth subscription model. iTunes will automatically charge the 99-cent weekly rate to subscribers' credit cards (probably forever!) and deliver The Daily directly to their devices. Business Insider suspects this "push" subscription model required significant changes to the iTunes software, and therefore potential collaboration between Steve Jobs and Murdoch.
Good luck figuring out that bundling thing, old media!
Check out Media Critics Weighing in On Murdoch's Daily.>>
kstoeffel [at] observer.com | @kstoeffel