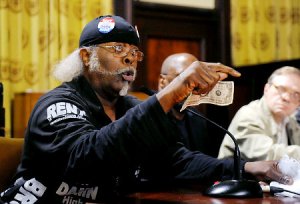 Jimmy McMillan, the gubernatorial (and mayoral) candidate from The Rent Is Too Damn High Party, was last seen in these pages when filmmakers were trying to raise money for a documentary about his life.
Now we have received word that McMillan is trying to parlay his fame further, and appear next week at Club Europa in Greenpoint for a live musical performance.
McMillan said he will perform songs he has written himself and will accompany himself with an acoustic guitar and an R&B soundtrack. All the songs, he added, will be about rent, and one includes every line he spoke at the famous gubernatorial debate. McMillan also said that he is a playwright, and that the music show will begin after a brief theatrical prelude.
"It's going to be funky," he said by way of preview.
McMillan also said that he was an R&B singer in the early `70s and signed with the famous Brunswick Records. He ultimately left them, however, to start his own label, Hamster Records, before leaving the music business all together after his children were born.