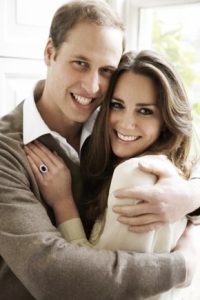 In the weeks since Prince William decided to put a ring on it and pop the question to longtime girlfriend Kate Middleton, they've seen their every move obsessed over and chronicled. England has embraced Kate Middleton as their bright-eyed heiress to the throne. She's a pretty pretty princess!
But when the royal couple sat down for their official wedding photos, they couldn't attain the perfection that we all have come to expect. The photographer, celebrity shutterbug Mario Testino, had to resort to airbrushing of the two couples, an insider told The Telegraph.
"There was a minimal amount of airbrushing done," the source said. "The final portraits amount to a piece of art, rather like the official paintings that would have been done in previous generations, and so they were touched up a little to get them just right."
Scandal in the royal palace! Testino did his part to temper the outrage that will result from the revelation that the man who would be king and his shiny-haired cohort are not, in fact, spotlessly perfect. He insisted that the touching-up was done only to the background, and that the shininess of Kate Middleton's hair is very, very real.
Air brushing or not, Testino seems very much a convert to the Church of Will and Kate. "They are in their prime and brimming with happiness," the awed man said. "I have never felt so much joy as when I see them together."
Us too, Mario. Now give us more pictures of Kate Middleton! We know you have plenty of outtakes, and the world can never get enough of that girl.