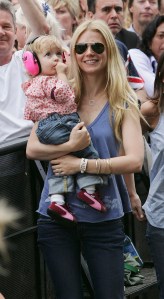 It's a time-honored tradition: If you are a famous person wedded to another famous person, your offspring will have a quirky name. Let's run through the classics: Suri, Moonunit, Zuma, Apple, Maddox, Peaches Honeyblossom, Jermajesty. What a play group that would be!
So it's refreshing to know that New York's elite toddlers all lay claim to odd monikers, thanks to their attention-hungry parents. New York's Daily Intel produced a "10 Under 10" list (not quite as essential as The New Yorker's "20 Under 40," but, hey, we'll take it) and most of today's scions of fame will grow up constantly defending themselves in elementary school getting-to-know-you games.
Who made the cut? There's Romy Mars, daughter of hotel-obsessed auteur Sofia Coppola and Phoenix lead singer Thomas Mars, whose voice was stuck in your head for all of 2009. And Tabitha Hodge and Marion Loretta Elwell Broderick, the twin offspring of Carrie Bradshaw and Ferris Beuller. Bjork daughter Ísadóra Bjarkardóttir Barney would have been weird if her name were "Jane," so we'll let that one slide. And then there's Secret Midnight Magic Nico Snow, who we're particularly excited for. Here's what Daily Intel predicts for this one.
The daughter of deceased artist Dash Snow and French aristocrat Jade Berreau will likely grow up among a rotating cast of beautiful bohemians, bedazzled in on-loan Van Cleef & Arpel. After a brief stint at the Professional Children's School, she'll ditch the city and head off into sunset on the back of a motorcycle (boyfriends will forever look like Dad). But don't worry, if things get too crazy, great-aunt Uma Thurman can always bail her out.
Our one rule for Secret Snow: No Hamster's Nest parties until you're at least 13!
nfreeman at observer.com |@nfreeman1234
Click for Scandal Report: And Then The Model At Diddy's Party Burst Into Flames