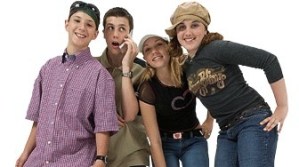 Remember Matthew Robson, the 15-year old Morgan Stanley intern who wrote a report last year that concluded that teenagers don't use Twitter?
Eight percent of Internet-using Americans are now on Twitter (totes mainstream!) but teenagers still aren't sold.
Another precocious teen has picked up the analysis where Robson left off. Michael Moore-Jones is a 16-year old in Wellington, New Zealand, who with 3,258 tweets and 481 followers seems to disprove his own thesis for ReadWriteWeb.
But Moore-Jones makes an interesting case that the media and advertising industries should consider:
It's the simple fact that Twitter isn't solving a problem that teenagers have, so there is no need for it.
Teenagers prefer to use social media to communicate with their groups of real friends, which tend to be smallish compared to the social circles of the publicists, self-promoters and Internet marketers who are most prolific on Twitter. A direct marketer also named Matthew Robson, for example, has at least three Twitter accounts.
Facebook messaging is going to be hot with teenagers though, Moore-Jones writes. That's the new Facebook email system inspired by 26-year old Mark Zuckerberg's conversations with teenagers, who make him "feel old," ha ha.
ajeffries [at] observer.com | @adrjeffries