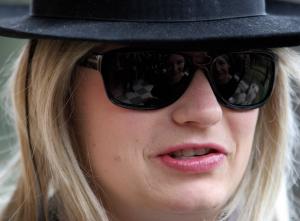 The writer Laura Albert, who made waves when her identity as the male, gay teenage author JT LeRoy was revealed in a 2005 New York magazine article, is suing her publisher Bloomsbury for damages related to that affair, AdWeek reports.
Ms. Albert says she is owed $131,573.60 because the publishing house used her royalties to cover another lawsuit — most likely the one from the film studio that bought the rights to a LeRoy novel — and also passed on the opportunity to promote her works in the wake of the scandal.
And LeRoy did earn Ms. Albert quite a bit of attention. Among his fans was Madonna, who sent him a number of kabbalah books that Ms. Albert in turn sold. "I kept one and I sold the others. I needed the money more than I needed the kabbalah," she told The Paris Review.
Ms. Albert was spotted at BEA in 2008, possibly attempting to sell another book.