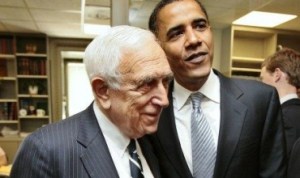 U.S. Sen. Frank Lautenberg (D-Cliffside Park) today opposed ending the debate over President Barack Obama's tax plan, which would extend for two years the Bush-era tax cuts set to expire December 31, as well as extend unemployment benefits for 13 months.
"I could not vote for this legislation which would plunge America deeper into debt," Lautenberg said. "It makes no sense to mortgage the future of our great country so that the wealthiest among us can have tax breaks. We must expand unemployment insurance, give tax relief to middle and low-income families and accelerate and extend job availability."
The senate procedural vote to end the debate was 83-15. Unlike Lautenberg, U.S. Sen. Bob Menendez (D-Hoboken) voted for the cloture vote on the tax compromise.