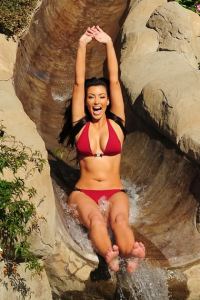 Lagardere stands alone. Bloomberg's man on la rue says the reports that the French publisher of Elle is days away from a sale to Hearst "come from anonymous sources who don't seem to know the reality of the situation" and no deal is imminent.
Kardashians are newsstand gold! Kim Kardashian graced the cover of 2010's best-selling issue of Shape, second best-selling issue of W, and third best-selling issue of Allure, according to WWD's MemoPad. And she has a New York-based spin-off reality TV show on the way. We should all bow down to the omnipotent Kris Jenner.
Conde Nast is still the glossy Goliath. They outsold competitors by 3,000 ad pages, according to a year-end memo from Chuck Townsend obtained by Mediaweek. Sounds like you guys owe Ms. Kardashian a fruit basket. Also funny: Vanity Fair won an award for best collaboration between business and editorial.
Wired has a secret stash of chats between FBI informant Adrian Lomo and WikiLeaker Private Bradley Manning, says Salon's Glenn Greenwald.
kstoeffel@observer.com:: @kstoeffel