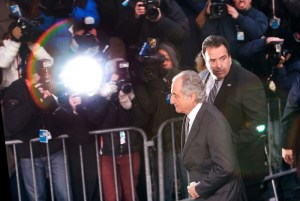 A huge settlement of claims by Madoff trustee Irving Picard is in the works, according to The New York Times. Mr. Picard's legal rampage has ensnared the New York Mets, HSBC, JPMorgan Chase and scores of others, and now he looks ready to add $7 billion to the Bernie Madoff victims' kitty.
The investor who's fallen into Mr. Picard's crosshairs, Jeffry Picower, was a talented money manager, generating $2 billion in returns while banking with Goldman Sachs. So it's a little odd, contends Mr. Picard, that Mr. Picower didn't seem to smell anything fishy about the Madoff fund. Says The Times:
The complaint filed against him last year by the Madoff bankruptcy trustee, Irving H. Picard, asserted that the profits on his investments with Mr. Madoff were equally stellar — but totally bogus. The complaint, which contended that a sophisticated investor like Mr. Picower should have recognized that Mr. Madoff was operating a fraud, sought the return of $7.2 billion — the amount by which Mr. Picower's withdrawals from his Madoff accounts exceeded the funds he paid in over the life of the fraud.
It certainly does take a very clever investor to buy into a Ponzi scheme and then get out before the whole fraud comes crashing down.
Check out The Most Staggering Wall Street Surprises of 2010.>>
mtaylor [at] observer.com | @mbrookstaylor