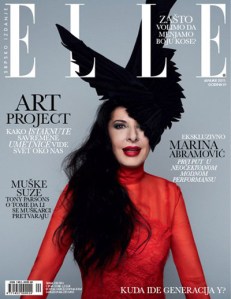 Performance artist Marina Abramovic, who made waves at her MoMA retrospective this summer with her piece "The Artist Is Present," appears on the cover of Elle for the January 2011 issue in her native Serbia.
She was shot in a bright red dress and avian black hat by international fashion photographer Dusan Reljin, who also grew up in Serbia. The dress was designed by Riccardo Tisci for Givenchy.
She discussed her MoMA piece with the American Elle in March, explaining
"I'm just having gaze, that's all," says Abramovic, likening her presence in the bustling space to the calm eye of a tornado. "It's up to me to create charismatic space."
Correction: An earlier version of this post mistated the designer of the dress. Apologies for the mistake. The Observer's Serbian is a little rusty.