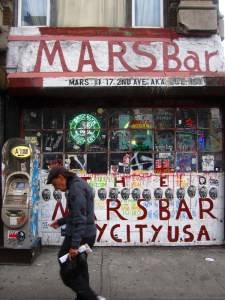 Mars Bar is a cramped, derelict bar in the East Village frequented mostly by the kind of crusty folk who wish the block were still crawling with addicts and punks. And the people adequately faking it, of course. Anyway, it's closing for two years, and we explained why this is a bad thing for the neighborhood and, well, the city's drinking establishments in general. Mars Bar is truly a gem, if you get to know it.
Which makes this news especially crushing: Curbed is reporting that instead of "renovating" Mars Bar and the two tenements above it, the plan calls for full-fledged destruction. Taking its place will be an eyesore sure to riotously offend anyone with taste below 14th Street — a blocky, too-sleek, 12-story apartment building that will rise up on the patch of Second Avenue where Mars Bar currently stands.
Though the new space will be three to four times bigger, the owner says, it will have to be incorporated into the same boring residential-cum-retail model that's infiltrated much of the area. So, basically, an extension of the Whole Foods that stands a few hundred feet away. We'll miss you, original Mars Bar.