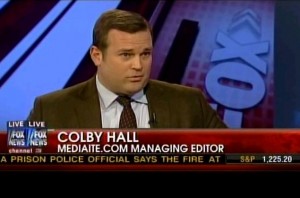 On Monday Mediaite posted the "10 Worst Media Disasters of 2010", just like every other blog shilling bubbly reminscence for a year-end traffic boost. Unlike the rest, Mediaite's left a nasty hangover.
"The 10 Worst Media Disasters" has a byline from Brad Phillips, who has his own blog called Mr. Media Training and is not employed by Mediaite. Mr. Phillips submitted the article to Mediaite, who agreed to repurpose it on the site under Mr. Phillips' byline. Later that night, Mr. Phillips took to his own blog to attack Mediaite managing editor Colby Hall for not giving him proper attribution.
Mr. Phillips's round-up appears to be properly attributed on the site itself. Mr. Phillips told The Observer he took issue with the fact that it twice said "Mediaite's 10 Worst Media Disasters" as opposed to "Mr. Media Training's," because there was no exclusivity agreement and the list was repurposed on other sites. The real issue is that Mr. Hall went on Shepard Smith's Fox News show to discuss the list a few hours after it had been posted. In the bit, Mr. Smith assumes that a Mediaite staffer wrote the post, and asks Mr. Hall to speak about how it was reported.
Since Mediaite published the content almost verbatim from Mr. Media Training, Mr. Hall was in no place to do so, but went along with Smith.
Shepard Smith: How did you pick these?

Colby Hall: "Uhh, well, there was no shortage of choices. Turns out people said a lot of stupid things in the past year, and the confluence of cable TV and the Internet, we cover every base, so there was no shortage of choices, but we have a lot to choose from."
Colby Hall was reluctant to speak on the record on the topic (which is itself slightly ironic, considering the on-the-record-but-off-the-cuff commentary of TV news is Mediaite's lifeblood) but told The Observer, carefully: "We at Mediaite do our best to give proper attribution and links wherever possible, we've felt comfortable with the way that we credited Brad with the story on the site."
On the topic of the Fox gaffe, Hall wrote on Mediaite (and reiterated in the comments of Mr. Media Training):
As the editor of the site I often speak on behalf of stories by a variety of our contributors. I was remiss in not citing Brad by name while doing the television spot, and had I the opportunity to do it again, I certainly would. Thanks for the media training, Mr. Media Training!
It raises an interesting question: how does the attribution contract between a content provider and an aggregator ("writer and editor" seems a stretch, here) change when the content changes platform and gets re-aggregated?
Although Phillips said the responses from other freelancers and content providers has been almost unanimously supportive, the commenters on his own site are somewhat ambivalent. They collectively agree it's an oversight on Hall's part, but several have trouble locating malice. TV is filmed live, bloggers are notoriously novice on camera, and most obvious, Mr. Phillips's single-author PR blog was much less likely to be found for for a last-minute live bit than the Dan Abrams-founded TV news blog Mediaite. One commenter suggested that Hall should have passed the call from Fox on to Mr. Media Training.
Mr. Phillips told The Observer that the one thing that prevented he and Colby Hall from settling the matter privately was that "Mr. Hall continued to minimize this, saying this was a small mistake. I don't think that to leave viewers with an impression that a work is yours when it's not is a small mistake."
Shepard Smith has since made an on-air correction and shout out to Mr. Media Training, but also takes some blame for misreporting:
A couple of days ago, we had a segment that aired here on Studio B that listed the top ten media disasters of 2010. Our guest of that day was the Mediaite.com managing editor, Colby Hall. And as we reported, the media disaster list was published on the Mediaite website. What was not reported was that the original source of the content wasn't Mediaite. Frankly, because I didn't know that. That was courtesy of Mr. Media Training blog. So there we go. Cleared up.
@kstoeffel | kstoeffel@observer.com