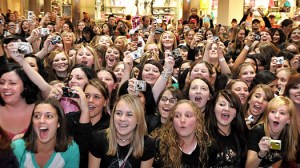 There is a new app out from Vuze, the software for finding, downloading and playing video from the Web, and it doesn't really have anything to do with New York. But Vuze decided to name it Fanhattan, a portmanteau of "fan" and "Manhattan."
"Fanhattan is headquartered 3,000 miles away from the East Side of Manhattan, in downtown San Mateo," says the website, without explanation.
The app is an entertainment recommendation tool that finds video content on the Web for free, renting, buying subscribing, or streaming to your TV. So is the name a ploy to get big media makers on board? An attempt to excite Sex in the City fans living in the flyover? Or just because it sounds like it could be a thing?
"Fan Francisco or Fan Mateo simply didn't have the same ring. So we went with Fanhattan," Chris Thun, VP of marketing at Fanhattan said in an email.
Anyway. Below is TechCrunch's video–it's in a New York City hotel room, at least.
ajeffries [at] observer.com | @adrjeffries