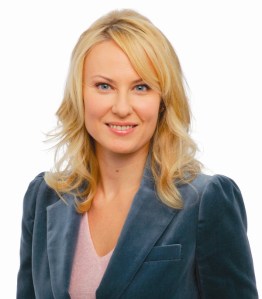 Welcome to the latest installment of our ongoing interview series, Meet the Neighbors! Angela Rapoport came to New York like so many before her, to make it big. A native of Estonia, she arrived in the city in 1990, ran her own Italian boutique for a dozen years, before making the jump to real estate, where she has enjoyed success after success at the Corcoran Group. She has closed deals all over Manhattan, but her expertise remains uptown, where she spends most of her time. Last year, Rapoport was a member of the brokerage's Multimillion Dollar Club. She considers Central Park her back yard and enjoys spending time reading there.

Where do you live?
I live in a great condo building on the Upper East Side. I am just blocks away from Central Park and the East River. I enjoy the fantastic restaurants and shopping that the Upper East Side has to offer.

How is work these days? What is your latest deal?
Work is exciting and the market is improving. Both local and international clients are seeking a great buy. My latest deal is the sale of a beautiful penthouse in my building.

What was the best meal you've ever eaten in New York?
Nobu for sushi, Daniel for French and Serafina for pizza. The beauty of the New York restaurant scene is that there is so much diversity.

What was your first apartment like?
It was a studio in Bensonhurst, Brooklyn. I paid $700 a month.

What is your recession war story?
A client decided to take the apartment off the market when she didn't receive the price she was hoping for. Overall, I've been fortunate to have resilient clients in a challenging market.

How do you get around town?
I love walking. But often I jump into a cab so that I can send emails and call my clients.

What is your favorite building in the city?
I don't have a favorite building. There are so many exciting neighborhoods that offer great buildings.

If you weren't a broker, what would you be?
I owned a Madison Avenue women's clothing boutique for 12 years. If I didn't switch to real estate, I would probably still be in fashion or retail.

What is your dream home?
A fabulous and spacious apartment with high ceilings, a large terrace and a view of Central Park.

You just won the lottery. What store do you stop by and what do you buy?
Instead of going to the store, I would invest in more Manhattan real estate.

If there was one thing you could change about New York, what would it be?
More street parking.
Read previous interviews here. >>