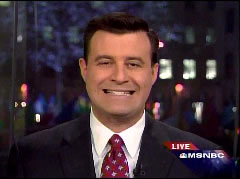 Gagged MSNBC host David Shuster is headed for a new journalism venture that he believes "will have a huge impact on political journalism," reports the Cutline. He declined to go into details until the venture launches.
Shuster was suspended from MSNBC indefinitely in April after he talked about jobs with rival CNN. While waiting for his contract to expire Shuster completed a Master's in Public Policy at Georgetown. Shuster tweeted back to life on Monday night to announce he would substitute for Jim Bohannon on his radio show Wednesday.
Shuster's eight year tenure at MSNBC was not without scandal. He was suspended for two weeks in 2008 for asking if Hillary Clinton's campaign was "pimping" daughter Chelsea out.
kstoeffel@observer.com :: @kstoeffel